The Gambier Island Local Trust Committee is embarking on a review of Gambier Island's land use policies and regulations, with a specific focus on these topic areas: forest ecosystem protection, shoreline protection, archaeological and cultural site protection, and access to public docks.
Gambier Island OCP & LUB Bylaw Targeted Review Process
The review will be undertaken in three phases:
Phase 1 of the project is currently underway and includes development of an engagement and communications plan. A working group, comprised of members of the Gambier Island community, is established to help develop the plan and assist in community engagement events. For more information on the Working Group, see below. The plan will be used to guide engagement with the Gambier Island community during the bylaw review.
Phase 2 will include engagement activities/events with the community, the results of which will help shape the changes to land use policy and regulation.
Phase 3 will continue with more community engagement and refinement of proposed changes.
Project Charter
The Project Charter is available here.
First Nations Engagement
The Gambier Island Local Trust Committee seeks to engage with First Nations with treaty and territorial interests on Gambier Island's Official Community Plan and Local Use Bylaws. Engagement will be reflective of the Trust Council adopted policy on First Nations Engagement Principles, and the foundation documents of United Nations Declaration on the Rights of Indigenous Peoples (UNDRIP), Truth and Reconciliation Commission Calls to Action, and Murdered and Missing Indigenous Women and Girls Calls for Justice. Engagement processes will be guided by concerns or responses from First Nations on how to proceed in a mutually respectful and relationship building framework.
How to get involved:
Gambier Island OCP & LUB Bylaw Targeted Review Working Group
A Working Group, comprised of members of the Gambier Island community, is established to meet and work with Islands Trust planning staff to develop an engagement and communications plan for the bylaw review and to assist with future engagement activities/events. If you are interested in joining the Working Group or would like more information contact northinfo@islandstrust.bc.ca.
We want to hear from you!
Stay tuned for future opportunities to provide your input.
Drafting the Public Communication and Engagement Plan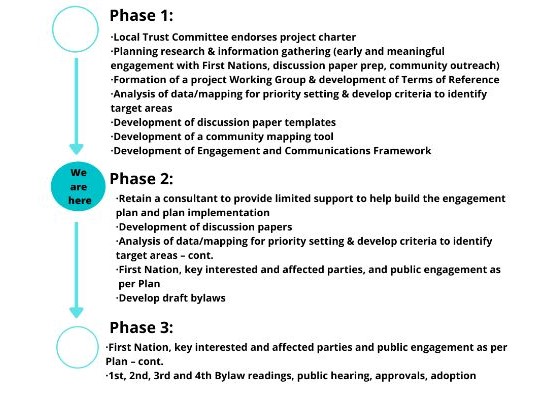 Once drafted, the Gambier Island OCP and LUP Targeted Review Communication and Public Engagement Plan will incorporate the format and essential elements modeled after the International Association for Public Participation (IAP2) best practices for public engagement. In addition, the Engagement Plan intends to comply with statutory requirements set forth in the Local Government Act, and the Island Trust Policy Statement on open, consultative and meaningful public participation process.  Take a look at the Public Engagement Framework as it will support the development of the engagement plan. The Framework is available here.
Next Steps
Discussion papers on the targeted areas of review
Meet with Working Committee
Coordinate and participate in meetings with First Nations Sḵwxwú7mesh (Squamish) Nation, s ̱ əlilw ̓ ətaʔɬ (Tsleil-waututh) Nation, xʷməθkʷəy̓əm (Musqueam) Indian Band (or their alternates)
Develop a robust overall plan, informed from input from the Working Group and First Nations, that guides the engagement and communications for phases 2 and 3
Develop Official Community Plan and Land Use Bylaw policy and regulatory bylaw amendments
To learn more about this work please visit the Gambier Island Projects page  or contact northinfo@islandstrust.bc.ca or call 250-247-2063.