Read the Islands Trust and Islands Trust Conservancy annual reports to learn about what we accomplished in the past year while delivering on the preserve and protect mandate.
Annual reports contain financial statements, Strategic Plan progress reporting and information about our organizational structure.
Access the information you need on this page. Questions about what you find? Let us know.
Islands Trust Annual Reports
Islands Trust Conservancy Annual Reports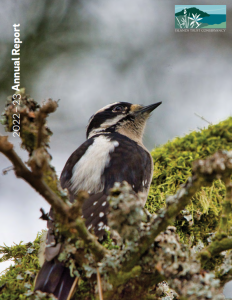 Read the latest Annual Report from Islands Trust Conservancy.
Our Annual Report outlines what we have accomplished each year as it relates to our four strategic goals outlined in the Regional Conservation Plan 2018 –2027, which guides the work of Islands Trust Conservancy to protect the ecosystems of and around islands in the Salish Sea.
You can review our annual audit and financials online.